Dear Inspiration Los Angeles 2023 Exhibitors
Thanks to your big supports, our 8th annual show will be held at the new location at LA Convention Center South Hall J on 4/7-8/2023.
We will take same schedule as Inspiration except Parking Lot prices & rules, but if you have any questions, please e-mail me: info@inspirationla.com
I am very excited to have vintage fashion event with you! Thanks always!
Rin Tanaka
1. Location
LA Convention Center South Hall J
1201 S Figueroa St Los Angeles, CA 90015
(213) 741-1151
2. Exhibitors Booth
Please do filling out the application form. And then send it with your check (or CC info) to
Rin Studios LLC
3130 Roxanne Avenue Long Beach, CA 90808 USA
949-510-9434 (Mobile)
info@inspirationla.com
3. Rentals
If you need, please contact us by 3/25/2023
4. Showcase Rental
If you need showcases for your small item display, please contact to
R&R SHOWCASE Company.
1007 S Santa Fe Ave Los Angeles, CA, 90021 United States
(213) 622-9450
www.rrshowcases.com
5. Parking Lots
1. Regular Cars: LACC SOUTH HALL has huge parking lots on 1st floor: $20 per day. ("Venice Garage" is $15 per day)
*IF you park "WEST HALL" parking lot, no worry. You need to walk only few minutes more from West to South Hall.
*No cars allowed overnight parking.
2. Commercial trucks & Van: Over 7 feet high truck need to park at "Bond Street Parking".
See map here!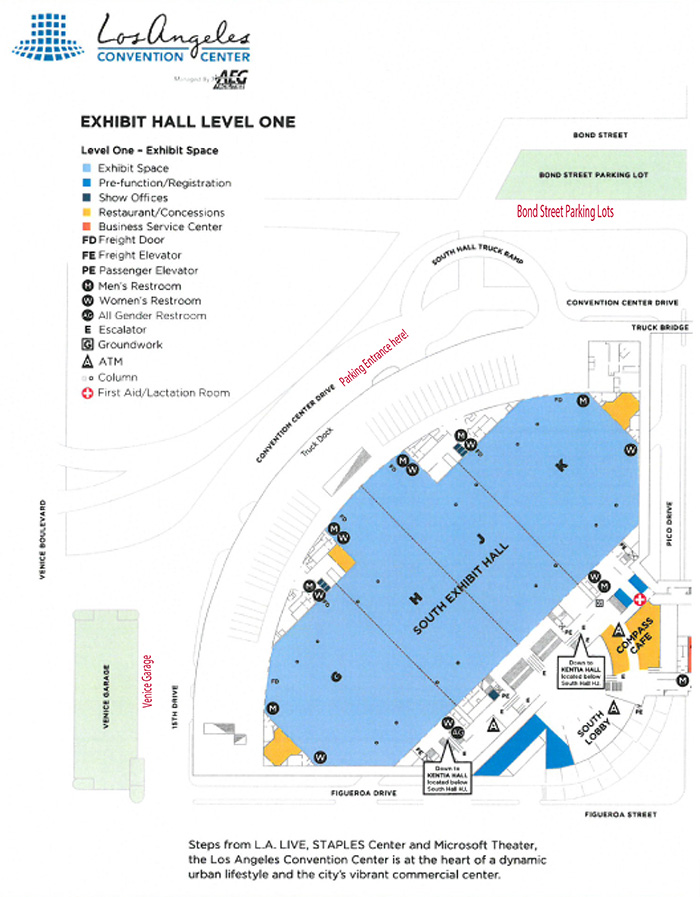 6. Load In and Out Docks
LACC has a huge commercial load in & out docks behind the building. Main-entrance is located on "Convention Center Drive".
See map below!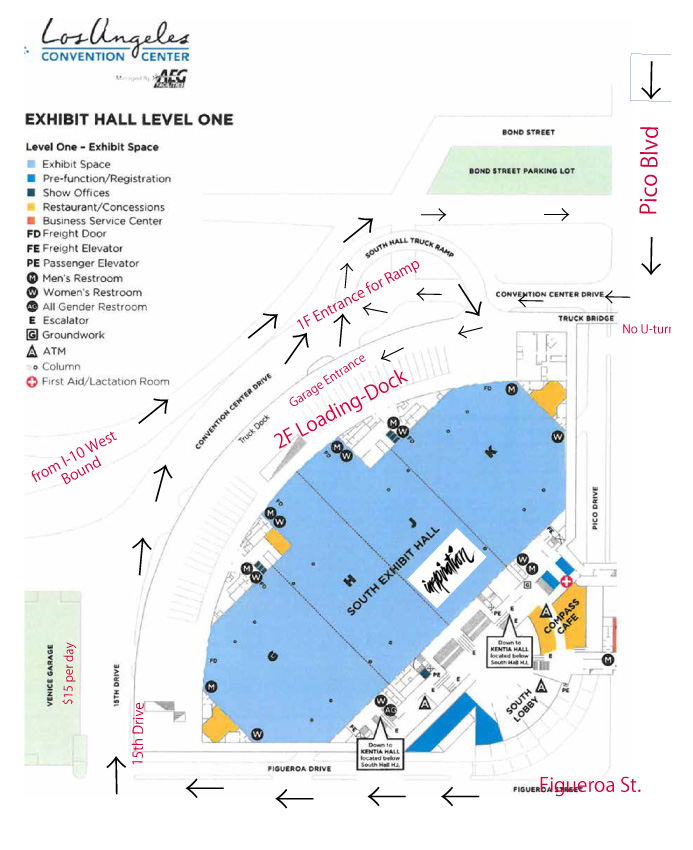 7. Schedule
Feb 7, 2023 (Friday)
8:00am - 12:00pm
Exhibitors' Set Up Times for Vintage Exhibitors.
*About 50 of Early Bird Ticket buyers will enter at 10:00am, during our setup times.
12:00pm - 5:00pm
Preview Evening Start!
7:00pm - 11:00pm
"After Preview Evening Party" at Freenote Cloth (Los Angeles, CA)
Feb 8, 2023 (Saturday)
8:00am - 10:00am
Exhibitors' Set-up times
10:00am - 4:00pm
"Vintage Gathering Show"
4:00pm - 8:00pm
"Sweep-Out Time" for all exhibitors
7:00pm - 10:00pm
"Official After Party" at RRL Melrose
8. No Wi-Fi Service
NO Wi-Fi Service by Inspiration show, but you can find FREE Wifi service spot at 2F food court area (outside our J hall).
9. Credit Card Service
Paypal, very popular internet banking service, has provided "easy credit card service program" for worldwide business owners, using with your iphone or computer. We don't guarantee their service; but check out paypal.com. You may find a good idea and services.
10. Hotel
Unfortunately, we can't get any nice group rate under $300 per room from 4 star hotels any more. Hotel prices in LA area have been going up drastically nowadays.
Please find reasonable hotels at www.expedia.com etc.
11. Shipping Services
A shipping-service store opens inside LACC; UPS/FEDEX available.
If you need details, please contact us!
Also, If you have many heavy items which need to be "delivered and returned" from your office, please contact to our official logistic company, LECS USA, located in downtown Los Angeles.
LECS USA Att: Harada, Morihisa
1410 Boyd St Los Angeles, CA 90033
323-266-3333 (Tel)
Sales@lecsusa.com
12. Floor Plan Map
Here is the latest layout maps. Find your favorite spots!
<![if !IE]><![endif]>