Vol.8: SUPER ORIGINAL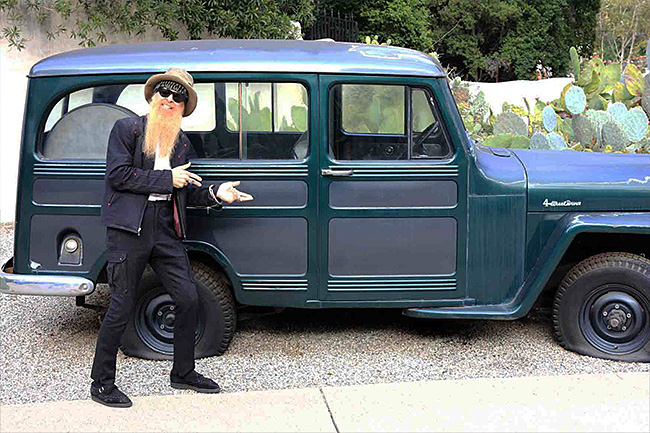 Dear Freedamn Heads,
Magazine Writer & Photographer----Those were the titles on my business card at the age of 28-32 years old: 1998-2002. Thanks to so many kind Americans, I had met and reported on hundreds of "very characteristic" artist-type people for Japanese men's magazines. I can still remember well such fun experiences in detail because they made "super original" impacts on me as a young man from Japan!!
For example, Mr. Billy Gibbons of Z. Z. Top was a great strong-impact artist. I first interviewed him…around 2000. What super fun photo sessions I had with him! Who can forget about him after the first glance of his loooong beard?! Across generations, everybody knows Billy Gibbons nowadays. That must be the answer why Billy Gibbons has survived in the super tough show world for several decades. Sure, he worked hard to build up his own "super original" style.
16 years later, my camera re-met Billy Gibbons. Kindly, he is also taking thought of our Inspiration show. "What's up with the Inspiration show, Rin?!" I answered: "Fortunately, Inspiration has struggled on for the last 6 years, but it is very tough for me to lead 250 exhibitors plus a big audience, like a conductor with a big orchestra…" He smiled "Show business also needs time to make it bigger. My first gig guarantee was just $1!"
As scheduled, the 8thannual Inspiration LA show will be held at the same location in downtown Los Angeles: the Reef on 2/12-13, 2016. Fortunately, our exhibitors and audience have various unique characters----They are the great seeds of "Super Original." I had learned from my dad: "Flower plants also need water and plenty of love!"
Ok, let us continue our "Vintage Party"! I am very looking forward to having a wonderful vintage weekend with you all soon!
Happy New Year!
Rin Tanaka
January 2016